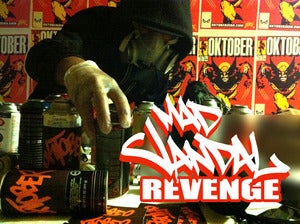 $

10.00
"THE MADVANDAL REVENGE" is the music soundtrack to some of the latest
Graffaholiks and Bombaholiks videos (youtube.com/graffaholikswebsite.com) and it is finally available on CD!
This Graffiti based album is the official street soundtrack for graff writers
and street art fans worldwide. Oktober sprays some of his most illest imagery
on these tracks. Produced by the late producer/ aerosol artist Simstrumentals,
this masterpiece touches on an artform that is usually frowned upon by society
but which is heavily respected around the world.
"THE MADVANDAL REVENGE" is an audio-biography of not one writer,
but of the super hero/ urban phantom that every graffiti writer aspires to be.
Not to be confused with toy-narrated story telling, this project is hardcore insight on The Madvandal's train of thought. This conceptual body of music gives the faceless Vandal a voice, and a soundtrack to vibe with while bombing the streets!
The Official Graffiti Street Soundtrack is HERE!